About Nagshanti Hero
The dealership was inaugurated on 31st March 2004 for North Belagavi city. Two wheelers provide an easier, economical and efficient means of mobility.
One standout feature of this dealership was understanding the pulse of sales. Nagshanti Hero setup several touch points in rural areas to cater to the needs of its buyers that predominantly are from remote areas of the region.
Buying a two-wheeler for many is the realization of a dream and the name Nagshanti invokes trust amongst the masses as a trusted seller of two wheelers. We feel proud to be a part of someone's dream and helping them realize the same.
The first showroom was 3,500sqft in area with a workshop of the same size. Customers receive warm reception from the first step they take inside the showroom and continues whenever they bring their bike for service or repairs.
The dealership has bagged several awards for top sales, top post sales service which has resulted in optimum customer satisfaction. This has also resulted in larger showrooms and workshops being established across the region.
Nagshanti got second dealership for South Belagavi in the month of February 2020. We have 16 touch points across Belagavi district to cater to customers.
Our Showrooms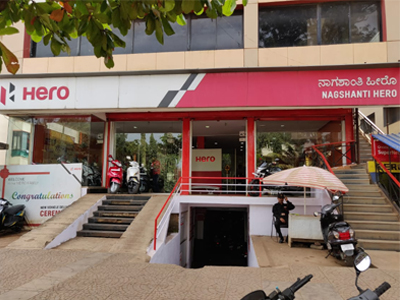 Nagshanti Motors Pvt. Ltd.
Dr. B.R Ambedkar Road,
Opp. District Civil Hospital,
Belagavi - 590002
For Sales & Service Contact
---
+91-9844890461, +91-9513353821

sales.hero@nagshanti.co.in
service.hero@nagshanti.co.in
Our Authorised Representatives
For Sales & Service Contact
---
+91-9844890461, +91-9513353821

sales.hero@nagshanti.co.in
service.hero@nagshanti.co.in